Quiénes somos
Aprovechamientos Industriales Doñana S.L.
The company Aprovechamientos Industriales Doñana, S.L. (Doñana Industrial Leverages, Ltd.), (hereinafter APROINDO S.L.); arises in 1998 at Almonte (Huelva), located in the region of Doñana which in turn has 14 municipalities, an approximate population of 240,000 inhabitants and immersed in the Doñana Natural Space (Doñana National Park and Doñana Natural Park). It shows, since the beginning, a clear concern for the environment and the sustainable development of their business,providing a clear example of sustainability when deploying the multiple business projects.
Its basis for action focuses on the management of waste produced in construction, agriculture and urban areas, channelled through recycling plants, recycling points or transfer stations dedicated to the exclusive management of such wastes.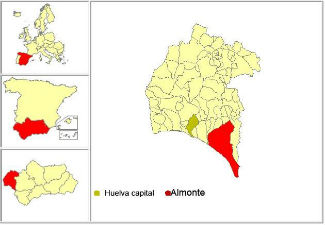 It has a wide selection of products and services based on the collection, storage, pretreatment, treatment and final disposal of waste such as paper / cardboard, glass, packaging, agricultural film, pipes, irrigation tapes, phytosanitary containers, plant residues, manure , biomass, wood, metals, RCD's, Waste Electrical and Electronic Equipment (WEEE). In addition to standard byproducts such as materials for fillings, plywood, sand fill, and recycled materials from RCD's intended, in general, for civil works.
In response to the serious problem of management of agricultural plastic waste, which occupies a large economic sector in Andalusia, we must add the bet that we developed since 2005 on these wastes the source of our latest business expansion in order to cause the integrated management of them.

We have the technical resources and infrastructure required to meet the demand for those local entities seeking the path of environmental excellence, by offering a catalogue of services tailored to the particular needs of the area.

Currently APROINDO, S.L. has the following facilities where its business operates: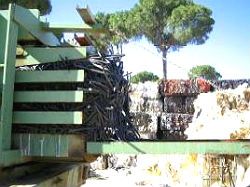 Waste recycling plant
In this one, waste from construction, agricultural and industrial plastics, packaging, paper and cardboard, glass, garden waste are treated and transformed into biomass.

In this plant, material is collected, selected, sorted and processed obtaining new products for sale on the market.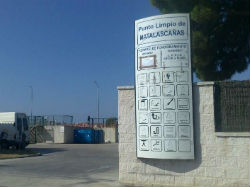 Collection points
Referred to as infrastructure intended for the selective collection of household waste, packaging, cardboard, glass, wood, furniture and equipment, WEEE, RCD's, and hazardous waste such as x-rays, mineral oils, lamps, etc.., offering integrated management of household waste with difficult disposal.

The collection points are located in the beach town of Matalascañas and at the International Horse Village, El Rocío.





Plastic Transfer Stations

This infrastructure is for the collection and storage of various waste plastics derived from agricultural activity. It has several access roads and gathering areas, where waste plastics are sorted (white film, black film, irrigation tapes, pipes, etc..) as well as safety vessels for phytosanitary containers, and control and surveillance booths.
It is located in the agricultural area of La Palmosa and La Teja in Almonte, offering diverse collection spaces for local farmers. In addition, a collection work is developed onsite at the farmer's estate itself in order to improve the quality of the collection, for which we have all the means necessary for such collection and transport (trucks, tanks specific for agricultural plastic, backhoes, adapted swivels, etc.).